February 15, 2012
Last Saturday, on the 165th anniversary of Thomas Edison's birthday, the Palm Beach County Convention Center hosted the Inventors Society of South Florida's "Resources 2012″ Expo.  75 exhibitors were present to show off their inventions and participate in seminars that offered advice on how to correctly market an invention.
Our client, Michael McVan (pictured below), was one of the 75 exhibitors proudly displaying his invention "BoxerBall®."  The BoxerBall® physical fitness device consists of a pair of boxing gloves and an inflated ball that is attached to the fist of each glove by elastic cords.  In use, BoxerBall® exercises are performed by striking the ball in an alternating left, right punching action.  Boxerball® is challenging, fun and provides a great workout for males and females of all age groups.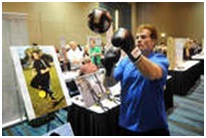 To read the Sun Sentinel's full coverage of this event, visit here.
To learn more about the Inventor's Society of South Florida, visit here.